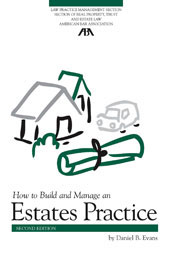 How to Build and Manage an Estates Practice

By Daniel B. Evans
Specifically tailored to the unique needs of the estates and trusts lawyers, this updated second edition of How to Build and Manage an Estates Practice focuses on making your practice better. Written as a "book of ideas," you'll find guidance on marketing, effective client communications, fee agreements, and ethics, including the updates to the American Bar Association's Model Rules of Professional Conduct. Whether you're a solo practitioner or a lawyer at a large firm, you'll find the tools you need to make a difference.
Authored by Daniel B. Evans, a veteran attorney focusing on the areas of estate planning and estate and trust administration, this edition highlights constructive ways to apply ideas that have worked for him to your own practice. Organized logically, the book starts with deciding what kinds of clients you want, to finding those clients, to choosing clients and establishing fee agreements, to doing the actual legal work. Inside, you'll find:
Strategies in defining your practice to bring focus and growth

The best ways to communicate with your clients

How technology and ethics have changed the practice area

Analysis of the Department of the Treasury Circular 230 issued in 2005

Innovative ideas for finding new clients

Ethics issues, including the challenges of marital and inter-generational representation

Fee agreements, including ideas on alternative billing in estate planning, administration, and litigation

Optimum strategies and practical ideas for billing

Tips on hiring personnel

Sample forms, checklists, and questionnaires, such as an Estate Planning Questionnaire, Estate Administration Schedule, and Will Execution Instructions, are included on an accompanying CD
Published jointly by the Law Practice Management and Real Property, Probate and Trust Law Sections of the American Bar Association.
1999 - 6 x 9 - 196 pages
Product code: 511-0421
$44.95 (RPPTL &: LPM Section member price) - $54.95 (Regular price)
By Mail:

American Bar Association
Publication Orders
P.O. Box 10892
Chicago, IL 60610-0892

By Telephone:

312-988-5522 (Mon.-Fri. 8 am to 5 pm CST/CDT)

By Fax:

312-988-5568

By Email:

---
Evans Law Office
Daniel B. Evans, Attorney at Law
P.O. Box 27370
Philadelphia, PA 19118
Telephone: (866) 348-4250
Email: dan@evans-legal.com